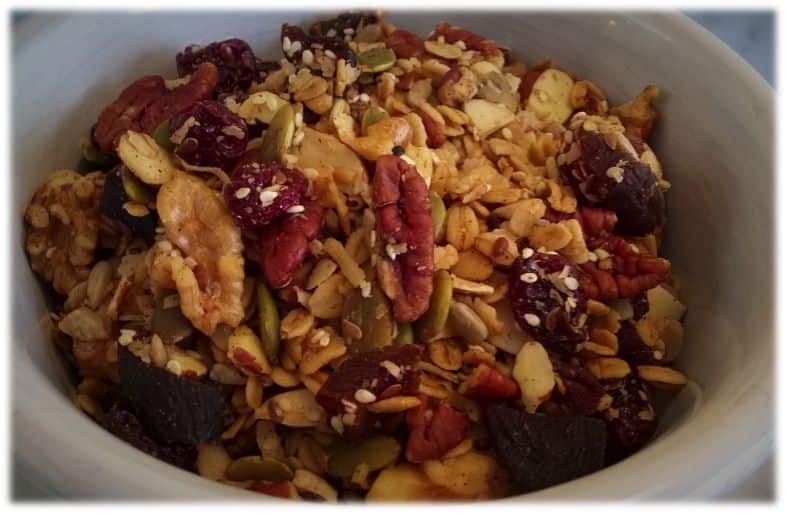 Nothing makes the Inn smell more inviting than when we are baking our house made granola. The sweet aroma always brings guests into the kitchen like bees to honey. I have received so many requests for the recipe that I thought I would share it here.
Making granola is super simple and you can vary the ingredients to suite your taste. That is precisely how I arrived at this recipe. It pays to use the freshest ingredients that you can find and vary the quantities to your taste. The bulk foods section of our local food co-op here in Port Townsend provides everything I need. I tend to throw in more pumpkin seeds and dried cherries when I give the final stir for a richer color palette.
Go ahead and give this recipe a try and then make it your own. Be sure and let us know what great things you do!
-Dave
---
Yield                                           Active Time                             Total Time
1 Gallon                                        30 minutes                                  2 hours
---
INGREDIENTS
Dry Works
3 cups rolled oats Certified Gluten Free

1 cup unsweetened coconut

1/2 teaspoon salt

1/2 cup sesame seeds

1 cup pumpkin seeds

1/2 cup sunflower seeds

1 cup almonds sliced

1 cup whole pecans

1 cup crumbled walnuts

1/2 cup flax seeds

2 tablespoons cinnamon

Wet Works
1/2 cup sunflower oil

1/3 cup water

1 1/4 cup maple syrup

2 teaspoons pure vanilla

Fruit

1 cup dried cherries

1/2 cup Turkish apricots

 

 
INSTRUCTIONS
Preheat oven to 250F and line 1 full baking sheet with parchment.
Combine Dry Works in a large bowl and mix well. In a separate larger bowl whisk the Wet Works to combine. Add the dry works to the wet and mix thoroughly.
Pack the granola down over the entire baking sheet. Bake for 1-1/2 hours, stirring every 15 minutes. The granola will be golden brown and crunchy when done. Allow to cool then toss in the dried fruit. Store in an air tight container.